Missions Supported by Laser Ranging
CryoSat
Geodetic Satellites
Geodetic satellites are designed to look and act as point-mass objects in order to allow for the most precise computation of their orbits. Big or small, cannonball-shaped, with as small an area-to-mass ratio as possible (to minimize the effect of non-conservative forces), they are passive objects studded with corner-cube retroreflectors (CCRs). Used as targets by Satellite Laser Ranging (SLR) ground systems, these satellites with their very precise orbits, provide very accurate, unambiguous distance measurements. They contribute to geodesy with positioning, determining the shape and size of Earth; and the variations of the terrestrial gravity field. The Lageos satellites are the basis of the ILRS contribution to the International Terrestrial Reference Frame (ITRF). Other geodetic satellites such as Etalon, Starlette, Stella etc are now being added to further strengthen the reference frame.
Remote Sensing Missions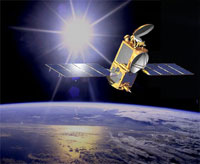 Remote sensing satellites carry payloads that measure structure and ongoing processes on the Earth using electronic and optical sensors (altimeters, gradiometers, satellite to satellite tracking, etc.) These systems measure the environment and monitor change on a global basis. Altimeters measure the topography of the ocean and ice surface to monitor changes on sea level and ice volume. Gravity field measurements help us understand the structure and dynamic processes within the Earth including changes surface hydrology, mass shifts, etc. Atmospheric and Ionospheric sensors help us understand the structure of these media and the dynamic process within. SLR is used to calibrate, validate, and monitor many of these systems and is a contributor to POD. SLR has also provided full POD in several cases when the radio systems have failed.
Global Navigation Satellite Systems (GNSS)
GNSS satellites are launched in constellations to provide accurate positioning and velocity for land, sea, air and space applications. Ground surveys today are based on GNSS and nearly every vehicle has or will have GNSS to monitor its motion and plan its future path. Science has adopted GNSS as a fundamental tool for measuring ground motions, Earth rotation, ionospheric and atmospheric structure (using occultation), and a host of other uses. SLR is used to calibrate the GNSS orbits and the combination of GNSS and SLR will be used to distribute the reference frame for users worldwide. Retroreflectors have been placed on satellites in the GPS, GLONASS, Compass, and Galileo (GIOVE) constellations. The apparent trend is to place arrays on many more. New complexes underway in India and Japan will also include arrays.
Experimental Satellites
Experimental satellites are a catchall for demonstration payloads that do not fit easily in any one of the other mission classifications. These satellites can often be in relatively low altitude orbits. RadioAstron is an exception. Some of these satellites have only SLR for tracking to save space and power. These satellites are often small in size and weight, irregularly shaped, and low cost. Some examples include TIPS, Starshine, Reflector, LRE, ANDE, and RadioAstron. The ILRS has thus established a CCR array standard which provides guidance in designing the correct array for each application.
The passing of Thomas Clark - Space Geodesy lost a longtime colleague and friend with the passing of Thomas Arvid Clark on September 28, 2021. Tom was a pioneer in Space Geodesy and Very Long Baseline Interferometry (VLBI), and a founding member of the NASA Crustal Dynamics Project.

Tom received his B.S. in Engineering Physics and his Ph.D. in Astro-Geophysics from the University of Colorado in 1961 and 1967 respectively. From 1966 to 1968, he served as Chief of the Astronomy Branch at NASA Marshall Space Flight Center and as Project Scientist on the Spacelab Coronagraph. At GSFC, where he moved in 1968, Tom received numerous NASA awards for his pioneering work on Radio Astronomy Explorer 1 and 2 and several generations of Very Long Baseline Interferometry systems. Tom developed the Totally Accurate Clock (TAC), an inexpensive GPS timing receiver that found widespread use in a number of global networks. Tom was named a Fellow of the American Geophysical Union (AGU) in 1991 and a Fellow of the International Association of Geodesy (IAG) in 1999. Tom was also a pioneer in amateur and digital radio; he designed and flew several low cost satellites for relaying amateur radio messages around the globe and is a past president of AMSAT. He was one of only 50 initial inductees into the CQ Amateur Radio Hall of Fame, a list which included such engineering luminaries and inventors as Guglielmo Marconi (radio), Samuel Morse (telegraph), Nikola Tesla (HF generators and radio), and John Bardeen and William Schockley (transistor). Tom retired from GSFC in 2001 but remained active in Amateur Radio activities.

Those of us who worked with Tom during the Crustal Dynamics period remember him as a brilliant mind, a very interesting and sometimes caustic character, but someone who was kind, supportive, and very helpful to those of us around him. We will miss him.


Third Circular for ILRS Virtual World Tour 2021 released - We look forward to seeing you at "ILRS Virtual World Tour 2021". Progress has been made at the five tour hosts and by the session chairs. Now we have just opened the registration form. Please visit the event website below and find the link.
https://ilrs.gsfc.nasa.gov/ILRS_Virtual_World_Tour_2021/index.html
Registration period: October 1 to 15, 2021

Participants are encouraged to register as a group if possible, due to the limit of Microsoft Teams individual participants allowed. The URL links will be sent only to the registered people.

See you in a month!


Second Circular for ILRS Virtual World Tour 2021 released - We are happy to report the updates on this year's "ILRS Virtual World Tour". In addition to the virtual visits to the stations (∼120 min), short special add-on sessions (30-60 min) are planned with the help of the Standing Committee Chairs. We look forward to seeing you in the last week of October. A tentative Program is included.


Many meetings have been canceled or postponed due to COVID-19. Please see the Meetings page for futher information.
FIG Working Week 2021, Utrecht, Netherlands, June 20 - 24, 2021
IAG 2021 Scientific Assembly, Virtual, June 28 - July 2, 2021
15th European VLBI Network (EVN) Symposium and Users Meeting, Cork, Ireland, July 12 - 16, 2021