Missions Supported by Laser Ranging
CryoSat
Geodetic Satellites
Geodetic satellites are designed to look and act as point-mass objects in order to allow for the most precise computation of their orbits. Big or small, cannonball-shaped, with as small an area-to-mass ratio as possible (to minimize the effect of non-conservative forces), they are passive objects studded with corner-cube retroreflectors (CCRs). Used as targets by Satellite Laser Ranging (SLR) ground systems, these satellites with their very precise orbits, provide very accurate, unambiguous distance measurements. They contribute to geodesy with positioning, determining the shape and size of Earth; and the variations of the terrestrial gravity field. The Lageos satellites are the basis of the ILRS contribution to the International Terrestrial Reference Frame (ITRF). Other geodetic satellites such as Etalon, Starlette, Stella etc are now being added to further strengthen the reference frame.
Remote Sensing Missions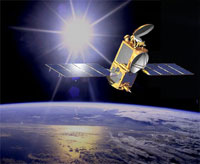 Remote sensing satellites carry payloads that measure structure and ongoing processes on the Earth using electronic and optical sensors (altimeters, gradiometers, satellite to satellite tracking, etc.) These systems measure the environment and monitor change on a global basis. Altimeters measure the topography of the ocean and ice surface to monitor changes on sea level and ice volume. Gravity field measurements help us understand the structure and dynamic processes within the Earth including changes surface hydrology, mass shifts, etc. Atmospheric and Ionospheric sensors help us understand the structure of these media and the dynamic process within. SLR is used to calibrate, validate, and monitor many of these systems and is a contributor to POD. SLR has also provided full POD in several cases when the radio systems have failed.
Global Navigation Satellite Systems (GNSS)
GNSS satellites are launched in constellations to provide accurate positioning and velocity for land, sea, air and space applications. Ground surveys today are based on GNSS and nearly every vehicle has or will have GNSS to monitor its motion and plan its future path. Science has adopted GNSS as a fundamental tool for measuring ground motions, Earth rotation, ionospheric and atmospheric structure (using occultation), and a host of other uses. SLR is used to calibrate the GNSS orbits and the combination of GNSS and SLR will be used to distribute the reference frame for users worldwide. Retroreflectors have been placed on satellites in the GPS, GLONASS, Compass, and Galileo (GIOVE) constellations. The apparent trend is to place arrays on many more. New complexes underway in India and Japan will also include arrays.
Experimental Satellites
Experimental satellites are a catchall for demonstration payloads that do not fit easily in any one of the other mission classifications. These satellites can often be in relatively low altitude orbits. RadioAstron is an exception. Some of these satellites have only SLR for tracking to save space and power. These satellites are often small in size and weight, irregularly shaped, and low cost. Some examples include TIPS, Starshine, Reflector, LRE, ANDE, and RadioAstron. The ILRS has thus established a CCR array standard which provides guidance in designing the correct array for each application.
The CDDIS is currently experiencing problems with receiving data and products - The CDDIS is currently experiencing problems receiving data and derived product files from those groups that routinely submit files to our upload servers. Therefore, some recent files are missing from the archive. We are actively working on the problem and hope to have the issues with file uploads solved soon.

We apologize for the problems this is causing our user community.


The Space Geodesy Project awards contract to KBRwyle Technology Solutions, LLC - The Space Geodesy Project awarded a contract to KBRwyle Technology Solutions, LLC in Columbia, Maryland, for the construction, deployment and commissioning of the agency's next-generation Space Geodesy Satellite Laser Ranging (SGSLR) stations. https://www.nasa.gov/press-release/nasa-awards-contract-for-space-geodesy-satellite-laser-ranging-stations


Elections completed for the 2018-2020 term of the ILRS Governing Board - The ILRS recently completed elections for the 2018-2020 term of the ILRS Governing Board.

View election results...

Two additional members of the Board will be appointed by the Governing Board, bringing total membership to 18 members. The chair will be elected at a meeting of the Board held in conjunction with the 21st International Workshop on Laser Ranging in November.

Congratulations to the newly elected representatives and thank you to all the excellent candidates who participated in the ILRS Governing Board election process. We were fortunate to have many very qualified candidates.


NASA Earth Science Data and Services Survey for 2018 -

Recently, some of you may have received an email from the CFI Group on behalf of NASA. This message asked you to complete a survey for users of NASA Earth science data and services, which includes the Crustal Dynamics Data Information System (CDDIS). The CDDIS is one of twelve NASA Earth Observing System Data and Information System (EOSDIS) science data centers evaluated by this survey. The purpose of this survey is to help NASA and the DAACs assess customer satisfaction and improve future services. Suggestions from past surveys have been implemented to improve the tools and services offered by the CDDIS.

Please participate! Your feedback affects our future performance and helps to identify science needs. You will be able to take the survey for each DAAC you use. This is your opportunity to influence the priorities of the DAACs, including CDDIS.

If you did not receive a survey and wish to complete one or know of someone who uses CDDIS and/or EOSDIS data and services who did not receive a survey, please contact

NASASurvey@cfigroup.com.

The American Customer Satisfaction Index (ACSI) is the only national cross-industry measure of customer satisfaction in the United States. NASA commissioned the CFI Group, an independent research and consulting organization, to conduct a brief survey to rate the products and services NASA currently provides from NASA's EOSDIS data centers. Please consider responding to this survey; your input will help us to better serve our user community.

Presentations of these results given to NASA Earth science are available at:

https://earthdata.nasa.gov/about/system-performance/american-customer-satisfaction-index-reports

Thank you in advance to all of you who are willing to spend a few minutes to complete the survey.


Joint meeting of the ESA Topical Teams: ACES & General Relativity and ACES & Geodesy, clocks and time transfer, Technical University of Munich, Germany, October 22-24, 2018.
IGS 2018 Workshop, Wuhan, China, October 29 - November 02, 2018
International Workshop on GNSS Ionosphere (IWGI2018), Shanghai, China, Nov. 04-06, 2018