Missions Supported by Laser Ranging
CryoSat
Geodetic Satellites
Geodetic satellites are designed to look and act as point-mass objects in order to allow for the most precise computation of their orbits. Big or small, cannonball-shaped, with as small an area-to-mass ratio as possible (to minimize the effect of non-conservative forces), they are passive objects studded with corner-cube retroreflectors (CCRs). Used as targets by Satellite Laser Ranging (SLR) ground systems, these satellites with their very precise orbits, provide very accurate, unambiguous distance measurements. They contribute to geodesy with positioning, determining the shape and size of Earth; and the variations of the terrestrial gravity field. The Lageos satellites are the basis of the ILRS contribution to the International Terrestrial Reference Frame (ITRF). Other geodetic satellites such as Etalon, Starlette, Stella etc are now being added to further strengthen the reference frame.
Remote Sensing Missions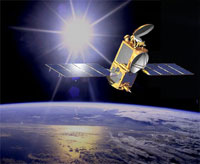 Remote sensing satellites carry payloads that measure structure and ongoing processes on the Earth using electronic and optical sensors (altimeters, gradiometers, satellite to satellite tracking, etc.) These systems measure the environment and monitor change on a global basis. Altimeters measure the topography of the ocean and ice surface to monitor changes on sea level and ice volume. Gravity field measurements help us understand the structure and dynamic processes within the Earth including changes surface hydrology, mass shifts, etc. Atmospheric and Ionospheric sensors help us understand the structure of these media and the dynamic process within. SLR is used to calibrate, validate, and monitor many of these systems and is a contributor to POD. SLR has also provided full POD in several cases when the radio systems have failed.
Global Navigation Satellite Systems (GNSS)
GNSS satellites are launched in constellations to provide accurate positioning and velocity for land, sea, air and space applications. Ground surveys today are based on GNSS and nearly every vehicle has or will have GNSS to monitor its motion and plan its future path. Science has adopted GNSS as a fundamental tool for measuring ground motions, Earth rotation, ionospheric and atmospheric structure (using occultation), and a host of other uses. SLR is used to calibrate the GNSS orbits and the combination of GNSS and SLR will be used to distribute the reference frame for users worldwide. Retroreflectors have been placed on satellites in the GPS, GLONASS, Compass, and Galileo (GIOVE) constellations. The apparent trend is to place arrays on many more. New complexes underway in India and Japan will also include arrays.
Experimental Satellites
Experimental satellites are a catchall for demonstration payloads that do not fit easily in any one of the other mission classifications. These satellites can often be in relatively low altitude orbits. RadioAstron is an exception. Some of these satellites have only SLR for tracking to save space and power. These satellites are often small in size and weight, irregularly shaped, and low cost. Some examples include TIPS, Starshine, Reflector, LRE, ANDE, and RadioAstron. The ILRS has thus established a CCR array standard which provides guidance in designing the correct array for each application.
Commercial power to TLRS-4 at Haleakala restored - A winter storm damaged commercial power transmission lines to the observatories on Haleakala, Hawaii, USA on February 10, 2019. Commercial power to TLRS-4 at Haleakala has been restored.
Etalon-1 and -2 tracking campaign - SLR has the opportunity to play a more significant role on the determination of Earth Orientation Parameters (EOP), an important element in the reference frame and parameters for many of our customers. With our improving ability to track GNSS satellites, we are conducting a 3-month Etalon campaign, from February 15 through May 15, 2019. Weekly reports are now available.
TLRS-4 at Haleakala without power - A winter storm damaged commercial power transmission lines to the observatories on Haleakala, Hawaii, USA. Since February 10, TLRS-4 has been without power. The local electric power company estimates repair to take a minimum of 4 weeks and as long as 8 weeks. The team is exploring ways to power the site with a backup generator or by connecting to a nearby observatory that has backup power.
New Site Log Version and Procedure - As you may be aware, there is a new version of the ILRS site log and a new procedure for submitting it. The procedure is documented on the ILRS web site at https://ilrs.cddis.eosdis.nasa.gov/network/site_procedures/site_logs.html. It involves creating or updating the site log via an on-line editor based at EDC. Submissions of text versions of the site log will no longer be accepted. The version 1 site logs were converted automatically to version 2, but many have errors that need to be corrected. If you have not done so yet, please follow the procedures on the web site and update your site log to correct errors and add information in the new fields by May 10 of this year. There is also a similar on-line editor at EDC to create or update your station change history log. Please see the instruction at https://ilrs.cddis.eosdis.nasa.gov/network/site_procedures/configuration_files.html.
Planning for the 2019 ILRS Technical Workshop has begun - We ask that you mark your calendars and reserve the date for the next gathering of the ILRS community:

Dates: October 21-25, 2019
Location: Stuttgart, Germany

The workshop will be sponsored by the DLR in Stuttgart, Germany. The program committee is actively working on the defining the theme and session topics for the workshop while the local organizers are planning the workshop logistics. The first circular for the workshop will be issued in the very near future.

We hope you will consider attending the workshop!
Lunar Laser Ranging featured on the "Today" show - NBC Sunday Today recently reported on lunar laser ranging activities at the APOLLO system in Sunspot NM.


The Passing of Richard Biancale - It is with profound sadness that we must announce to you the passing our colleague, Dr. Richard Biancale, geodesist, recently retired from the CNES in September 2018, and most recently working at the GFZ (Oberpfaffenhofen) with Dr. Frank Flechtner on GRACE Follow-On. We were informed of his death on Monday February 4, 2019 from a heart attack while skiing in the Alps.

Richard had a long and distinguished career in Space Geodesy. He received his Ph.D. in 1978 from the University Pierre and Marie Curie in Paris (France) while working under Professor Cristoph Reigber at the Technical University of Munich (Germany). He worked as a research scientist at the University of São Paulo, at the DGFI (Deutsches Geodãtisches Forschungsinstitut) in Munich (Germany), and at CERGA (Centre d'Etudes et de Recherches en Géodynamique et Astronométrie) Grasse (France), before joining the French Space Agency, the CNES (Toulouse, France) in 1982 as a scientific engineer.

Read more...


3rd IVS Training School on VLBI for Geodesy and Astrometry, Las Palmas (Gran Canaria), Spain, March 14-16, 2019
24th Working Meeting of the European VLBI Group for Geodesy and Astrometry (EVGA), March 17-19, 2019, Las Palmas (Gran Canaria), Spain
Munich Satellite Navigation Summit 2019, Munich, Germany, March 25-27, 2019